Giant, skyscraper-sized mechs knocking seven bolts out of each other is just the tonic we've needed in 2020, a spectacle for any and all to enjoy. Override 2: Super Mech League foregoes the city-saving heroics of the first game and focuses on brawls in intricately designed arenas full of traps, pickups, and items to hurl at your opponent.
Seven years after the events of the first game the threat of an alien invasion of Earth is a distant memory, and so the mechs and pilots that defended our planet have become the stars of global mech battle leagues. Your goal is to climb the ranks, pick up new sponsorships, upgrade your mech, and become a robot battling superstar.
To achieve this feat you'll need to master Override 2's eight unique arenas. Battling across a lava field – as you might guess – comes with plenty of hazards, from boulders that can be picked up and thrown as weapons, to sudden eruptions of magma that can spill out onto the arena floor.
On the Casino map there are a number of trampolines that you can use to get the jump on your foe, or to escape if you've just endured a heavy beatdown. Of course there are still metropolis-like levels so you can get your fill of mechs barging through buildings without breaking a sweat. Just as you can pick up melee weapons for your mech in each level, you can also pluck some buildings from their foundations and wield them for powerful strikes. Our favourite arena has to be a partially submerged, fake city that's been built into a stadium. In a nod to the colosseum games of ancient Rome, the arena changes over the course of the brawl, gradually filling with water as different sections of the prefab city rise and lower, offering valuable high ground to mobile players.
The robotic roster consists of more than 20 mechs, each one boasting plenty of character in their visual design, which is backed up by a suite of abilities. While many of the mechs are returning fan-favourites from the first Override, you'll find a lot of characterful new faces among the roster, too.
Where many fighting games have intimidating skill ceilings, Override 2's revised combat makes it refreshingly accessible
Sprinkles, for example, is the Gundam equivalent of a gumball machine, with a candy cannon capable of dishing out some serious damage. Better still, Sprinkles can trap an enemy mech in a bubblegum bubble, leaving them vulnerable to ranged strikes for a short period of time. Another newcomer, Aura, is a little more serious than its candy-spitting counterpart and uses electrical attacks to overwhelm in combat. Aura's slashing attack sends shockwaves hurtling across the arena, and you can even set up traps by casting a short-range mine that will explode after a slight delay. For its ultimate, Aura summons an energy sword and unleashes a devastating flurry of attacks, cutting anything in its way into ribbons.
As any Gundam fan will attest, customisation is key when it comes to mechs. In Override 2 you can take your favourite mech to the garage and tweak the paint scheme to suit your tastes, or equip accessories to each section of armour for some added flair.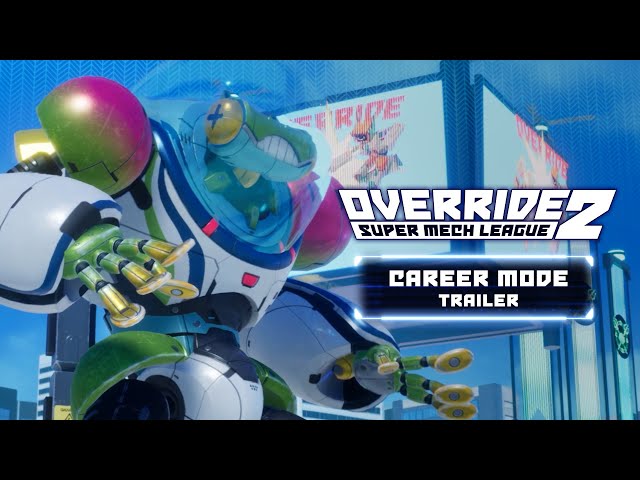 Smoother animations and faster attacks make the action even easier to dive straight into, but mastering each mech's ultimate and set of abilities is where players will really start to enjoy Override 2: Super Mech League's combat. A new combo system also adds depth, allowing players to string basic attacks together for more punishing effects, or take their opponent down from an unexpected position by tying a kick onto the end of a double-jump.
While many fighting games can be intimidating because of their insurmountably high skill ceilings, Override 2: Super Mech League's revised combat makes this a refreshingly accessible brawler, with plenty of tools to utilise in a pinch, whether that's a skyscraper that you can use as a makeshift javelin, or one of your mech's abilities.
Of course, Override 2: Super Mech League is a mech brawler, so making sure each and every strike feels suitably powerful is key. Mechs in Override 2 throw their full weight behind every attack resulting in some delightfully destructive moves, such as karate kicking your foe through a skyscraper. Sparks light up the scene whenever an attack lands, and every dodge, jump, or knockdown results in plumes of dust billowing across the arena.
Once you've ascended the ranks in career mode and staked your claim as the best mech pilot around, you'll find a huge range of multiplayer match types to continue honing your skills in. From highly competitive 1v1 and 2v2 bouts, to King of the Hill contests and co-op PvE, there's a little something for every type of mech brawler fan.
Related: Check out the best robot games on PC
If you particularly like the sound of all this, you can plump for the Ultraman Deluxe Edition version of the game, which includes an exclusive Ultraman cosmetic pack, and season pass featuring four characters – Ultraman, of course, plus Bemular, Dan Moroboshi, and Black King. Click the link to pre-order Override 2: Super Mech League ahead of its launch tomorrow!