Microsoft Flight Simulator – as it's now simply known – is at its best when you have no set goals. Perhaps aware that as a Game Pass title it's going to attract attention from a broader audience who aren't hardened flight sim fans, the main menu does attempt to provide some sort of direction with a series of landing challenges and a few long-distance 'bush trips' across remote areas in the likes of Nevada and Patagonia.
While this is a welcome offering and we wouldn't be against seeing more of these preset activities in future updates, half the fun here is in deciding yourself where you want to go. The World Map option is the real meat here: choose from one of over 37,000 real-world airports as your departure location (and which runway you want to use, naturally), select another one as your arrival, pick a plane and off you go.
The level of detail when it comes to flying your aircraft can be deeply intimidating should you decide to go it alone without any of the game's myriad of aids. Turn off the assists and unless you're seriously into your flying it'll probably take a while to get one of the game's collection of propeller-based planes off the ground, let alone take the likes of a Boeing 747-8 Continental up to 35,000 feet.
Rest assured, then, that for those serious about their flight sims and looking for an unmatched level of authenticity, they will certainly find it here. Cockpits are recreated to a ridiculous level of detail and armed with a mouse we had a great time flipping loads of switches and pretending we knew what we were doing, before trying to take off from Newark and accidentally ploughing our jet onto a nearby highway instead.
It goes without saying that, as in this example, a large number of players will be interested in playing Flight Simulator but may not necessarily have the time or the patience to learn the complicated controls. Thankfully, developer

"Armed with a mouse we had a great time flipping loads of switches and pretending we knew what we were doing, before trying to take off from Newark and accidentally ploughing our jet onto a nearby highway instead."

Even the perilous act of taking off can be turned into a simple case of turning off the parking brake, raising the throttle and pulling back once you hit the right speed: should you so desire, the game can take control of everything else that could go wrong. Such is the level of Flight Simulator's optional assistance that you can control the entire flight using an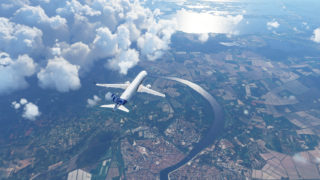 As you do so, prepare to be either excited or disappointed depending on your expectations. From up in the sky – which, to be fair, is the whole point – the game looks absolutely phenomenal. The landscape below you is generated using Bing Maps and then an AI system does its best to analyse those, determine which areas are houses and then build 3D models on top of them. The result is breathtaking from a distance.

Get in close and the cracks start to show, however. Because most of the game is made up of AI estimates rather than the real thing, once you get down to nearly ground level things start looking really ropey. Edinburgh Castle looks more like the mansion from

"Players don't even need to worry about flying at all if they don't want to: a tap of the Insert key puts you in control of a drone, letting you leave your plane behind and explore the towns and cities to your heart's content."

Some major cities fare much better. Places like New York City have been given special attention and built using photogrammetry, meaning that rather than AI estimates each of the buildings are more or less the same shape and size as their real-life counterparts.

This makes a flyby over Manhattan just as jaw-dropping as it should be, though it does still have its limitations when it comes to street-level detail, so you should maybe only land in Times Square if you fancy seeing what it looks like after a nuclear war.

Ultimately, Flight Simulator is the best game of its type to date. For Asobo to have recreated the entire world in such a stunning way is an incredible accomplishment, and for it to have also produced a game that's either the most detailed flight sim ever or the perfect entry point for complete novices who just want to play with a controller is similarly impressive.