Red Stewart reviews Struggling for PC (Steam)…
Much like how Ren & Stimpy inspired an era of gross-out cartoons, I've always felt that Super Meat Boy and, to a greater extent, The Binding of Isaac, had a similar effect on the indie game market. Both came out within a year of each other, showcased a morbidly appealing aesthetic, had violent imagery, and were massive successes.
Developed by Chasing Rat Games and published by Frontier Foundry, Struggling is another such entry in this era of ribaldry. This time you play as Siamese monster twins who have escaped from a lab, with each brother's arm being individually controlled. The question is, is this a frustrating endeavor or does it work? The short answer is the sheer creativity sometimes outweighs the flaws, but the flaws do get irritating. For the longer answer read on!
We'll start off with the story. Struggling is very tongue-in-cheek: from the beginning you're given this extravagant history about superior beings who were castigated to the dark realms by humanity, with their hope resting on a prophecy detailing the rise of two heroes who would restore their status in the world. It's done under the pretext of Greek Mythology, with the cited warriors even being called Hector and Achilles.
…and yet, all of that is completely subverted in the next few seconds. Hundreds of years pass, society has moved on, and now these former beings either remain underground or are privy to scientific experimentation by Homo Sapiens. One of these experiments is Troy, a conjoined reincarnation (or birth?) of Achilles and Hector. He gets free from his tank thanks to some shenanigans, and you spend the rest of the game moving wherever the developers take you.
Struggling does have some humorous writing bits, but most of the comedy comes from visual gags that are strewn throughout. The truth is this game is, for all intents and purposes, a platformer, and so there's really not much you could have done in the way of parody, which is what I believe Chasing Rats was attempting in parts. Where they succeed they succeed, but where they have nothing to say they try and make up for with pure ludicrousness.
The problem is, the platforming genre, as a whole, is already built on being ludicrous- you go back to the first level of Super Mario Bros. and what did you get? An Italian plumber moving through a rocky world full of anthropomorphized mushrooms, turtles, and plants. That's already ridiculous! You can maybe do a serious satire, but a spoof? It's just not possible, no matter how blue the wit.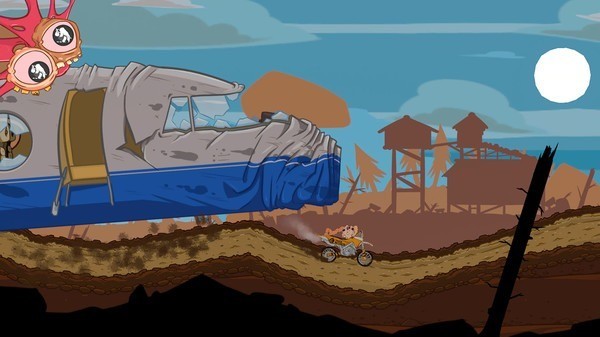 That being said, Hector and Achilles aren't just a blank canvas- they do have a personality that comes out in subtle ways, whether it's yelping when you're about to hit a dangerous part, having happy expressions when they meet someone who pleases them, or grunting as they roll down an inclined plane. So it was nice to see that incorporated
But look, I'm ironically over-focusing on a part of the game that has no real bearing on its performance. Even if it falters with the parody-aspects, gamers won't care because they aren't playing Struggling for the narrative.
Instead, their first instincts will go to the graphics, which may initially be a turn-off. In my review of Bor, I was reminded of Rick & Morty because the crude art style felt reminiscent of Dan Harmon and Justin Roiland's animated serial. Here, though, I can't help but wonder if the aforementioned cartoon was a direct influence on what Struggling's artisans were going for. The loose limbs, bulging eyes, flat faces, acid vats, heck even the screams of Hector and Achilles come off like something you'd see in an episode of Rick & Morty. Which was a good thing for me as I am a fan of that show.
But there are a lot of crass aspects that prospective gamers will have to deal with. Bloody visuals, death, pestilence, organs, pores, belching mouths, and farting unicorns. This is a game that literally jumps from the macabre to the silly in the span of a few seconds, but it's all wrapped up in a grotesque blanket. So if these don't sound like things you'd find appealing, this is the only warning you'll get.
Regardless of your attitude, I can say that this is a beautiful game. Chasing Rats committed to an esthetic that looks like it was painted in Toon Boom, and so you get artwork that is consistently outstanding no matter the environment, which is good considering the amount of locales you will go through: from a laboratory to a grand canyon to a freaking dreamscape of singing mushrooms, it never looks out of place.
The lighting is well-done as well. Most of the time you'll have a basic luminescence that matches whatever location you're in, but the few times Struggling throws in a dynamic source, whether it's colored lanterns or a regular torch, its radiance feels natural.
From there we move onto sound. There is no voice acting outside of the howls made by the protagonists (which aren't the worst I've heard in a video game, but you do have the option to decrease the volume of just that), so SFX will be up first. Here, what I'll say is that Struggling's aural presentation is adequate but doesn't stand out as much as I wanted it to. I think I've said in the past that platformers rest on having sharp sounds- collecting items, jumping, enemy deaths, falling obstacles, all should come with a memorable din.
There's nothing distracting about the noises in Struggling, but outside of the sound of the brothers colliding with the side of a pillar, I don' recall hearing anything that stood out (and even then, I'm pretty sure the only reason I remember that babble is because I caused it many many times!). Animals make generic squeals, cogs sound like they did in old Japanese steampunk media, and your death is the exact same squish and pop no matter the cause. Was there a missed opportunity? Technically yes, especially for people like myself who appreciate good sound design.
However, Chasing Rats MORE than made up for it with the music, and when I say music I don't just mean the score- I'm talking about the editing. Music cues are something we experience all the time, particularly in horror, yet we tend not to pay too much attention to them because they're usually obscure (or take a backseat to the story transpiring on screen).
Due to the simpler presentation of Struggling (and focus on visual gags, as stated above), I was able to pay more attention to the harmonic indications this time around, and they were amazing. There are tonal shifts (crawling through a shaft only for it to suddenly get flooded with vermin), but they feel organic courtesy of how seamless the music goes from track to track (techno to quiet to a bone-chilling percussion crescendo in that example).
That's a testament to the composer and sound editor, who happen to be the same person – Leandre Monette. He devises a lot of sporadic beats that don't come off as haphazard because of superb mixing. One part has you traveling through a canyon with a stereotypical Sergio Leone-esque harmonica humming away. You suddenly come to a bar in the middle of this nowhere, and a saloon piano kicks into form!
Another thing I have to highlight about the tunes are the little Easter Eggs you will hear if you pay attention. There were two I personally noticed: one,  falling into a body of water sets-off a leitmotif that is eerily reminiscent of "Dire Dire Docks" from Super Mario 64, and two, climbing a building plays a riff of the 1967 Spider-Man theme. I'm sure there were more, but even if there weren't, I was floored by the diversity in melodies. I said in the graphics section that you will go through varying locales, and the compositions fit no matter the range: man-made or natural, science or fantasy, musical or standard, it does not matter. Monette is definitely talented.
Finally, it's time to talk about the gameplay. The first thing to note is that the developers themselves highly encourage you to play Struggling with a controller "unless you hate yourself" (per a title card), and I 100 percent agree. I can't even imagine how this could be pulled off with a mouse/keyboard set-up (although you CAN if you want).
Struggling works by having you control the arms of the brothers to move- one joystick mobilizes one, the other mobilizes the other. Hitting the respective bumpers triggers the grip function, which is utilized to drag, flip, or climb across the terrain.
Going into this, I was very afraid it would turn out like the Octodad games, which controlled so horrendously I stopped playing after 12 minutes. Thankfully, significant work was done here as Struggling's scheme works. It does take some getting the hang of, but once you break it in it's fairly easy to maneuver. The clasp function, in particular, is terrific, with Troy being able to latch onto any surface (not coated in saliva) and pull himself through slight twitching.
That being said, the physics engine was not designed as well as it should have been. One of the biggest issues you'll run into is the game's gravity, which impacts Troy's actions like swinging, pulling himself up, and hauling items: actions you WILL have to do multiple times throughout the levels, and that consequently get aggravating. The problem is the limbs don't always respond well to your joystick motions, meaning they'll frequently get tangled up, forcing you to do some awkward jutting of the joysticks to free them. Luckily, this is alleviated when Troy earns the ability to detach/regenerate his tentacles, but this seems more like an unintentional convenience than an intentional design feature.
Another issue is that, because of the gravitational force, your arms have a tendency to swap suddenly and cause a weight shift that screws up your movement, a facet not helped by the head being a bobbing dead block. For example, there are parts where you need to swing using one appendage as a fleshy rope, but Troy's head will cause the pendulum motion to bend at the top of the oscillation, messing the curve drop and ruining the momentum you are trying to build. A solution to this would've been to simply have the dome automatically stick to an arm during these parts.
Additionally, I didn't like a few features. The first was, whenever you boot back up your game, it goes to a lair that can only be escaped by either climbing to the top or exploding your characters's heads, rather than starting directly at your last checkpoint. The second was the lack of a "restart" option on the menu for whenever you mess-up; it was a little dumb having to wait for Hector and Achilles to "officially" die from whatever hazard you were encountering when you knew it was inevitable. Thirdly, the collectables here, taking the form of hats, don't do anything. Some are hidden behind puzzles, but most require you to navigate a harder path (beckoned by the soft whisper of "secret, secret, secret…."). However, all that effort is for naught since they're purely decorative and fall off relatively easily- having some additional power-up or the revelation of an extra path via wearing them would have been nice.
So what do you get with Struggling? You get a video game that will hurt your fingers: seriously, it'll be natural for gamers to press the clench bumpers hard (like myself) despite it not having an impact on the in-game clutch. But you also get a title that proves just how insanely imaginative the indie world is. I was blown away by the utter zaniness exuded by some of these set-pieces, from escaping a crashing plane on a motorcycle to scoring a floating goal against a basketball team of giant ducks to playing a pinball boss fight. And backing up these antics is an adaptive score that knows how to bounce between coy, humorous, and dark.
I really wish I could say that all this makes-up for the unpolished physics, however that just isn't the case. There were too many times where I got annoyed by the faulty swaying or my limbs getting knotted up. And while there are (thankfully) plenty of save points that prevent you from having to backtrack, you will no doubt have to repeat a section multiple times because of flaws out of your hands.
It took me a little over 6.5 hours to beat Struggling, which at, a $15.00 asking point, falls under my $1.00 : 30 minutes ratio. I do always say to support indie developers, and I can definitely tell that Chasing Rats are full of great craftsmen and programmers, but Struggling didn't quite hook me as much as I wish it had. I appreciate the uniqueness and look forward to the next release from CR, but at the moment, the slightly clunky controls prevent me from recommending their debut title at full price (for Steam at least).
The OST, on the other hand? That is definitely worth the $10.00 asking price.
Note- Struggling also offers online co-op, with each player taking control of a single appendage. This reviewer did not do that and so this review does not reflect it in the final verdict.
Pros:
+ Visionary acid-inspired levels
+ Uncommon gameplay
+ Soundtrack/music editing
Cons:
– Inconsistent physics
– Ubiquitous SFX
– Strained pointer and middle fingers
Rating – 6/10
Red Stewart